The Problem: Click Fraud
Invalid click activity – "click fraud", has become the weapon of choice for unethical competitors and rouge ex-employees. Recent research estimate fraudulent click activity cost over $23 billion in 2017 alone. In other words, for every $3 spent, $1 will go to fraud. With statistics like that – Every digital marketer MUST ask himself – how can I protect my campaigns from click fraud?
Who's Clicking My Ads?

Bots
Over 36% of web traffic is generated by automatic bots & scripts. Is a bot clicking your Goole Adwords Ads? Block them now!

Competitors
Unethical competitors and ex-employees may click your ads as a strategy, to watch your ads go offline. With Clixtell's protection they won't be able to!

Hackers
"Click Farms" can produce hundreds of clicks within minutes. Are you a target? Protect your Ads! Live, automatic & efficient Click Fraud Protection
Live Dashboard & Mobile App
Track all ad clicks & website calls in one easy dashboard. Control how many clicks you allow from each source.
Stop Adwords Ads Scams automatically. View or download insightful website analytics and call data records.
Our Customers around the world report dramatic increase in R.O.I since using Clixtell. With the best click fraud protection we monitor, analyze, detect & STOP click fraud on Google Adwords campaigns. So, how does Clixtell work?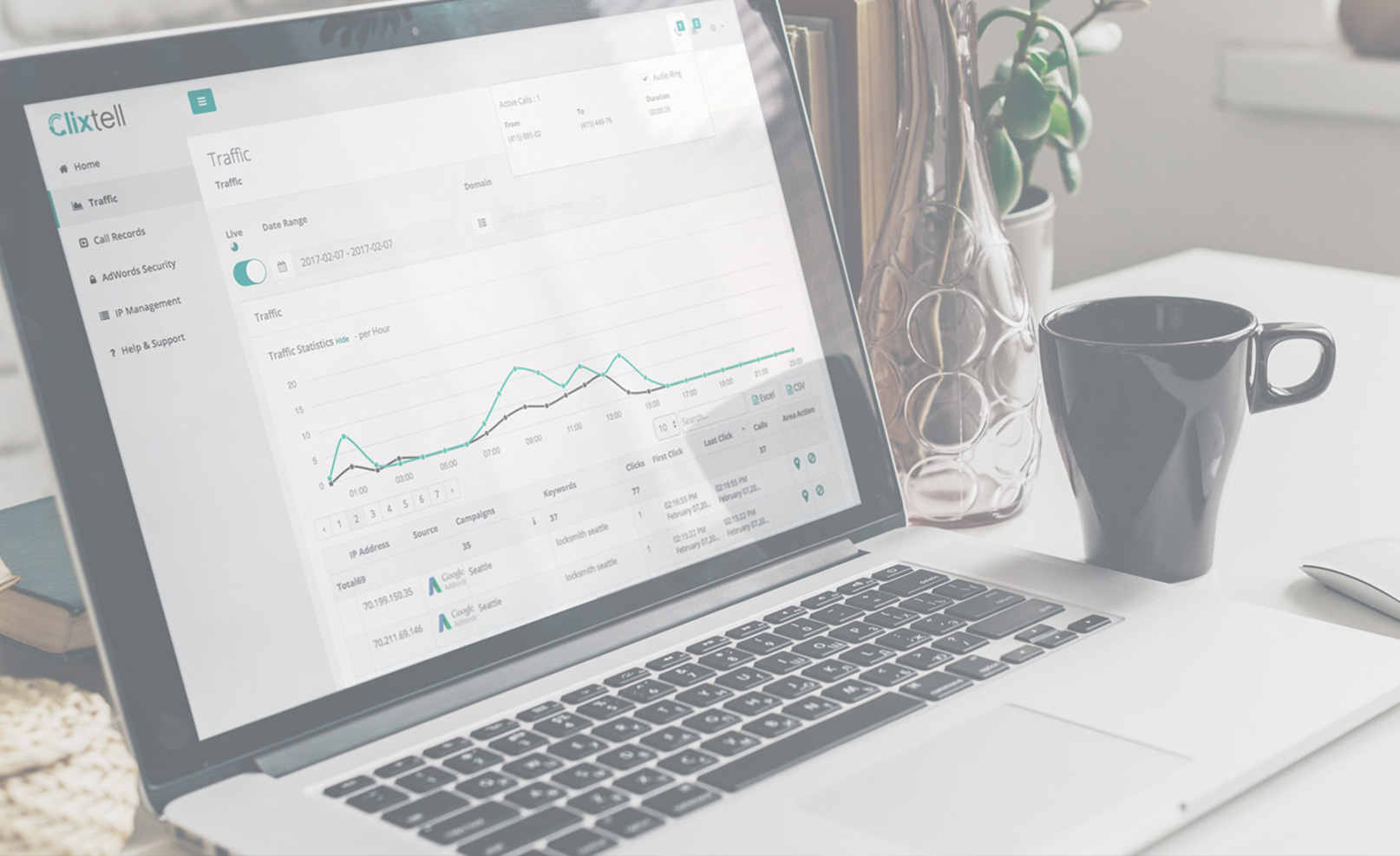 Click Fraud Protection Features:
Real Time Fraud Protection
5 Minute Setup
10,000 Paid Clicks
Unlimited Custom Rules
Smart Range Blocker
Campaign Defense Mode
Block VPNs & Proxies
Enhanced Bot Protection
Multi Domain Protection
Easy MCC Integration
Live SMS Notifications
Immediate Adwords Blocks
Service Provider Blocker
Visitor Session Recorder
Device ID Blocker
Visitor Time On Page
Mobile App for iPhone & Android
I.P. Service Provider
Visitor Geo Location
Live Dashboard Mode
Detailed Analytics & Reports
How Does it Work?

Monitor
Visitors IP & Device ID
After a 5 minute setup, we will start monitoring every click to your website and analyze IP addresses & a device IDs searching for invalid click activity. We will immediately report back to Google & block every rule violation. In addition, you can watch visitor's Geo location, time on page, device type & fingerprint, ISP, OS and much more…

Secure
Adwords & Bing Campaigns
You set the rules, we do the blocks. We detect click fraud activity by the rules you set, and automatically blocks it on Google Adwords. Block IPs manually or automatically by range, device, or one by one. With our customized click fraud report, you'll be sure to get your money back for every invalid click.

Boost
Marketing Profit & ROI
Businesses just like yours report ROI increase of up to 300%! Stopping Click Fraud is easy with Clixtell. We have the best results in detecting and preventing click fraud activity in the most competitive environments. Save money & increase ROI. Start protecting your PPC campaigns today.
Frequently Asked Questions
---
After registering with Clixtell, our on-boarding wizard will guide you through our simple activation process. Our friendly support team is also standing by to assist you. Clixtell's servers will connect with Google's via API and will ask your permission. Once the 5 minute setup is complete, Clixtell will start monitoring every click and block the fraudsters automatically on your Adwords account
Clixtell's users around the world report a dramatic ROI increase within days. You will also notice more credits from Google's automatic filters while your traffic gets cleaner and cleaner.
Clixtell the World's #1 rated Click Fraud protection software. Due to our state of the art technology and unique protection features, we are able to STOP click fraud on Adwords & Bing campaigns by up to %100!
Because of security reasons, a credit card is required to setup a Clixtell account. Your card will not be charged during your 2 week FREE trial period. If you want to keep your account active, it will be automatically charged at the end of your trial. There's NO CHARGE for cancelling during the trial period
Clixtell plans are on a month-to-month basis and you can cancel your account at any time.
You can add as many domains as you need into one dasbaord. Our native MCC support will make it even easier integrating multiple Adwords accounts. Our smart muti-domain protection algorithm can protect all of your domains as if they were one, or protect each domain separately.